Equity bank of Kenya has again sent a warning to all it's customers in the country.
There is a short message circulating through SMS from unknown individuals, Informing equity customers to that their accounts have been suspended.
In the short message circulating, there is a contact given for customers to call. Once you call the number, you are requested to share your banking details like identification card numbers and USSD pin code.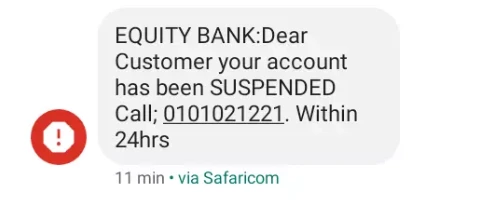 Several people have lost their money from equity accounts, by just sharing this information with unknown people.
Others have been sending a short message informing equity customers of ezzy banking system.
Also in this short message a contact number has been given.
Equity bank has now informed all its customers that if you might lose your money as a result of sharing your banking details, equity bank won't be reliable for the loss.

---
Kenyan Business Feed is the top Kenyan Business Blog. We share news from Kenya and across the region. To contact us with any alert, please email us to
[email protected]
---
Comments
comments