– Njoroge was appointed in June 2015, and became the ninth CBK governor after Njuguna Ndung'u
– He was appointed alongside his deputy M'Mbijjewe and CBK board chair Nyaoga
– Having been appointed on same day, terms of all three top executives are expected to expire at around the same time
Who will replace Patrick Njoroge as the next Governor of the Central Bank of Kenya (CBK), the country's banking sector regulator?
That is the big question that many in the banking sector could be asking considering Njoroge's four-year term is expected to expire in June 2019 and with no clear-cut successor in mind.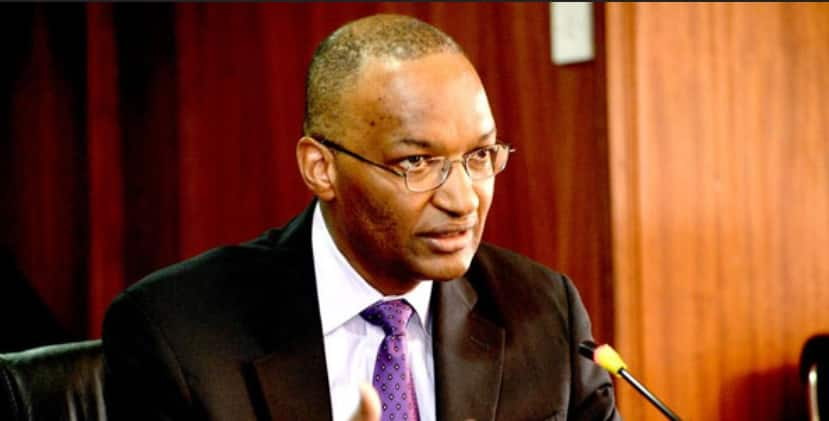 The regulator could be staring at a transition crisis because the terms of a number of other top executives are also expected to end at around the same time Njoroge's term will end.
A report published by the Daily Nation on Sunday, May 26, revealed CBK's deputy governor Sheila M'Mbijjewe and Board chairman Mohammed Nyaoga are expected to exit alongside Njoroge because their appointments were effected on the same day.
With no clear-cut successor, it's possible Njoguna's term and that of his deputy, could be renewed to avert a potential crisis at the CBK which is mandated to formulate and implement monetary policy that promotes price stability, fosters liquidity, solvency and stability of the banking sector.Governor Njoroge took over from Njuguna Ndung'u on June 19, 2015, and became the ninth governor of the CBK since the institution was established in 1966.
Njoroge's four-year tenure witnessed the collapse of three banks, starting with Dubai Bank in August 2015, then Imperial Bank in October 2015 and lastly Chase Bank in April 2016.
The governor also at some point had a rough time dealing with dealing with Members of Parliament (MPs) reporting some of the banking sector regulations he had come up with.
For instance, the lawmakers protested regulations limiting daily cash transactions claiming it was stifling liquidity and hurting the economy.
They accused Njoroge of coming up with regulations and implementing them without their approval.
They alleged Njoroge was yet to present a single regulation before the House even after the enactment of the Act and threatened to block renewal of the governor's appointment after his term expires.The MPs had in 2018 passed the Finance Act which required the CBK boss to publish all regulations governing the banking sector.
The governor eventually yielded to the demands by the MPs and promised to publish the regulations.
Lenders were expected to know the source and recipient of customer deposits or withdrawals of over KSh 1 million.The CBK in January 2016 introduced new rules on how banks should deal with transactions involving more than KSh 1 million.
The directive, the regulator noted, was aimed at increasing traceability of bank transactions and discouraging money laundering and terrorism financing.
---
Kenyan Business Feed is the top Kenyan Business Blog. We share news from Kenya and across the region. To contact us with any alert, please email us to
[email protected]
---
Comments
comments